A New Narrative on Aid to Yemen:
Toward Effective Humanitarian Practice
The Graduate Institute Auditorium A2
November 8, 2021
About Event
More than six years into the United Nations-coordinated international humanitarian aid effort in Yemen, the response remains sorely lacking in the eyes of many humanitarians, donors and Yemenis. Is Yemen really the worst humanitarian crisis, or is it in reality one of the worst humanitarian responses? Are local authorities to be blamed for operational shortcomings, or do international organizations also share blame for the inefficiencies that characterize aid delivery in Yemen? 
Yemen's leading think tank, the Sana'a Center for Strategic Studies, investigated these and other questions in its latest report on humanitarian aid in Yemen. As a follow-up on the report, the Sana'a Center, the Sanaa Center Geneva Association, and the MENA Student Initiative of the Graduate Institute would like to invite you to a panel discussion in Geneva.
---
Date: November 08
Time: 06:30 -08:00 PM Sana'a Time 4:30-6:00 PM CET
at the Graduate Institute (Auditorium A2).
---
Introductory remarks will be made by Simone Troller Alderisi, Swiss Ministry of Foreign Affairs.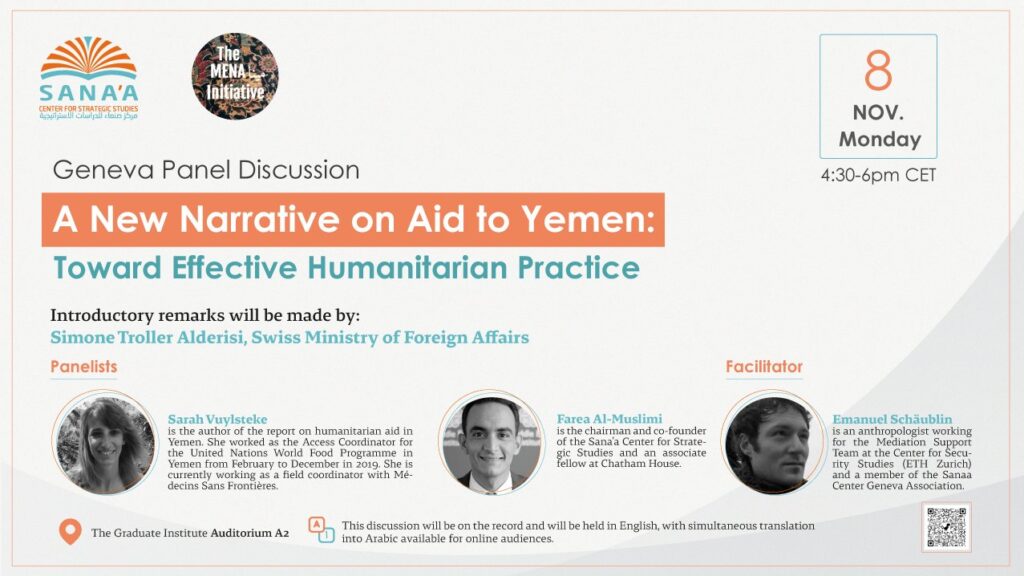 To RSVP
please email [email protected] by Monday, November 8, 2021, 10:00 AM Sana'a time, indicating your full name, position and organizational affiliation.