A man buys Saudi riyals at Al-Hamdi Exchange on Haddah street in Sana'a on August 14, 2020 // Sana'a Center photo by Asem Alposi
---
By the Sana'a Center Economic Unit
Exchange rate divergence between Sana'a and Aden reached a record high by the end of August, with a Yemeni rial worth 33 percent less in Aden than in Sana'a. The rial was trading at YR805 per US$1 in the Aden parallel exchange market, compared to YR605 per US$1 in Sana'a. 
The difference in value of the rial between government- and Houthi-controlled areas is a consequence of the split in the Central Bank of Yemen (CBY) into rival institutions in Sana'a and Aden affiliated with the warring parties, leading to fractured monetary policy. The divergence started to widen following the Houthi authorities' decision in December 2019 to ban the use in areas they control of newer rial banknotes issued by CBY-Aden. In July and August, the rial depreciated around 7 percent in Aden relative to the Sana'a exchange rate, which has remained stable at around YR600 per US dollar since the beginning of the year.
---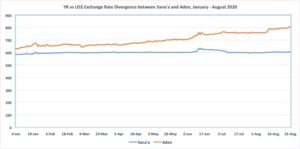 ---
Enforced Currency Stability in Houthi-Held Areas
The limited supply of old banknotes in Houthi-controlled territories compared to the large size of economic activity, along with the Houthi authorities adopting strict measures to enforce a fixed exchange-rate system through the suspension of foreign-exchange trade in areas they control, have contributed to the stabilization of the rial's value in northern Yemen. 
For instance, during the past few months Houthi authorities have intensified restrictive measures banning the circulation of new banknotes in many frontline areas, including Ibb, Taiz and Al-Dhalea. This has helped spur new rial banknotes to increasingly flow toward areas nominally controlled by the Yemeni government. Meanwhile, CBY-Sana'a has both electronically and physically limited the transfer of dollars to areas outside Houthi control, according to a money exchanger based in one Houthi-held governorate. 
Yemen Government's Expansionary Monetary Policy and Hobbled Central Bank
In areas outside of Houthi control, the government's general lack of revenues has led it to regularly print new banknotes in order to meet expenses, with this expansionary monetary policy being one of the key drivers of the Yemeni rial's devaluation. By the end of 2019, the total  rial liquidity in circulation in the country was estimated at YR3.4 trillion, meaning that CBY-Aden had printed YR1.7 trillion worth of new banknotes since its relocation decree in September 2016. 
As of the beginning of 2020, the Aden-based central bank had roughly YR200 billion held in reserve and has additionally printed around YR300 billion over the course of the year, according to a senior Yemeni banking official. Faced with a larger budget deficit this year resulting from the drastic decline in global crude prices and from government tax and custom revenues in southern areas being controlled by the STC, the Yemeni government has largely relied on the CBY's overdraft financing instrument to cover government spending, including public sector wages, thus inflating the monetary base issued in new rial banknotes close to YR2 trillion. This has increased downward pressure on the rial's value and helped drive inflation. 
Additionally, over the last several months the CBY-Aden has faced a litany of pressures that have undermined its monetary role – most importantly the CBY's mandate to protect the value of the rial – and accelerated the pace of rial depreciation. Again, one of the major factors hindering CBY-Aden is the ongoing struggle between the Yemeni government and the STC. Little progress has been witnessed in ending fragmentation and military clashes between the two parties, derailing efforts to lay the groundwork for new Saudi financial support to replenish CBY-Aden's nearly depleted foreign reserves. 
Since the beginning of 2020, the CBY-Aden's monetary functions have been hindered by a lack of foreign currency stocks needed to finance imports. As of the end of August, the central bank had nearly exhausted the $2 billion Saudi deposit that was made available to it in early 2018. According to a credible source working in the Aden banking sector, the CBY's remaining foreign currency holdings from the Saudi deposit stand at around $180 million, which is insufficient to cover a two-month bill of commodity imports. 
The Aden central bank's level of foreign currency intervention using the Saudi deposit has been limited of late. On August 13, it received approval from the Saudis to withdraw $61.5 million to cover requests for the import of basic commodities at the privileged exchange rate of YR650 per US$1. Between May and July this year, no withdrawals from the Saudi deposit were made.
---

---
Currency Traders' Increased Fees and Speculation Related to Old-vs-New Banknotes
Yemen's fractured monetary policy and dual rial banknote systems has negatively affected market sentiment and confidence in using the domestic currency in financial transfers across the country's frontlines. In order to avoid the value fluctuations between new and old rials, exchange outlets and money transfer networks have taken to pricing their transfers in an intermediated foreign currency, generally the Saudi riyal or US dollar. 
Financial service providers, including commercial banks, have reacted by charging 30 percent or more as a processing fee for cash transfers from areas held by the anti-Houthi coalition to Houthi-held areas. In other words, someone in a nominally government held area has to send 1.33 units in newly printed rials for their intended recipient in a Houthi-held area to receive 1 monetary unit of old rial banknotes. 
Indications from the currency market through July and August are that money exchangers and money transfer network operators have sought to profit from increased speculation on the differentiated exchange rates between old and new rial banknotes. As well, in southern Yemen, financial service providers appear to have been selling large quantities of their stocked newly printed rial banknotes to purchase foreign currency from the market, both to pay customers due transfers and to replenish their own foreign currency holdings.
This bulletin appeared in Hostage on the Red Sea – The Yemen Review Summer Edition, July-August 2020
---
The Sana'a Center for Strategic Studies is an independent think-tank that seeks to foster change through knowledge production with a focus on Yemen and the surrounding region. The Center's publications and programs, offered in both Arabic and English, cover diplomatic, political, social, economic and security-related developments, aiming to impact policy locally, regionally, and internationally.