Officially, Ahmad al-Essi is a businessman who dabbles in politics – he's the chairman of the Alessi Group as well as the deputy head of Yemen's presidential office. Unofficially, Al-Essi may be the most powerful Yemeni alive. Certainly, he's one of the richest.
Twice, once in 2015 and again in 2016, he provided a financial lifeline to President Abdo Rabbu Mansour Hadi – the first time just after Hadi fled Sana'a for Aden, the second after Hadi fired Prime Minister Khaled Bahah and, incensed, the Saudis had cut off Hadi credit. Al-Essi and Hadi had been close for years, dating back to the early 1990s when Hadi was Minister of Defense.
Al-Essi also leveraged his close relationship with the president and his sons to further his business empire, securing a monopoly on fuel imports into Aden. Like Jeff Bezos and Amazon, Al-Essi can supply almost everyone with almost anything. He has sold food and fuel to Saudi and Emirati troops in Yemen, helped keep the Yemeni army and government afloat, and collected a thousand and one favors along the way.
His home, an apartment in Cairo, is the fixed center of the Yemeni universe. Former prime ministers, tribal sheikhs, businessmen, members of parliament and military officers all patiently wait for their audience. Each appointment is written on a single piece of paper in Al-Essi's own hand.
In January, Al-Essi graciously invited the Sana'a Center to his home for a candid and expansive interview that explored a wide range of topics, including: Al-Essi's recent visit to Moscow; his Southern 'unionist' project; the Houthi takeover's impact on his business empire and how this empire also props up the Yemeni government; his feud with Prime Minister Maeen Abdelmalek; how Abu Dhabi will do business with him but still wants him dead, and why he should be Yemen's next president.
Editor's Note: The following transcript has been edited for clarity and length.
---
Talking Politics and Oil in Moscow
Sana'a Center (SC): First of all, I would like to thank you, Sheikh Ahmad al-Essi, as I think this is your first interview in a while now. Let me begin with your recent visit to Moscow, what were you doing there?
Al-Essi: The aim of this visit was to start relations and [expand] new horizons for the Southern National Coalition. (The SNC is a southern-based political organization Al-Essi helped found in May 2018. )
At the same time, it was in response to others' (the Southern Transitional Council) visits to Moscow. We saw that the legitimate government is trapped and we wanted to open relations, at least for the SNC.
In the past, we have met with officials from the American and British embassies, and we clarified the SNC's position to them. We prefer to also have a presence in Russia as well. Thank God, the visit was positive, and we met with Russian officials.
SC: What do you think of the Russian stance towards Yemen? Is it different from the British and American stances?
Al-Essi: Different. This is what I've noticed from my meeting with the deputy foreign minister and the president's special advisor Mikhail Bogdanov.
SC: The Russian president's special envoy to the Middle East and North Africa?
Al-Essi: Yes, we spoke to him about the situation in Yemen, and based on his remarks, we saw that Moscow has taken an interest. Frankly, his remarks impressed me. He said that Russia does not stand with the Houthi movement in terms of controlling Yemen, especially its expansion toward the south – hence [it seems] they are focusing on the country's south – but at the same time, Russia does not stand with Operation Decisive Storm or with the Saudi-led Arab Coalition. Bogdanov said [Russia] was in favor of Yemenis reaching an agreement.
SC: Did you have any commercial relations with Russia before or do you now?
Al-Essi: During this visit, we focused on the issue of the SNC and on our commercial work that pertains to importing petroleum derivatives.

SC: So, there was no import of petroleum derivatives from Russia in the past?
Al-Essi: No, never, and there isn't now as well.
SC: But would this possibly happen [one day]?
Al-Essi: It's possible of course because the Russian prices are good. However, importing Russian fuel is difficult. We've heard talk about a free market, competitive prices, brokerage companies for years; however, even the last step [toward this end] did not yield results. That's when we went to their front door, which is the national oil company (Rosneft), and held a simple meeting. [After we left], they made promises, which was a sign that they are interested in this. We will make a second visit.
---
SNC vs STC: Al-Essi's 'Unionist' Struggle in the South
SC: I would like to talk about the SNC. What do you think of the viewpoint that the SNC was only formed to oppose the STC, and more importantly that the SNC has failed so far at infiltrating, for example, Al-Dhalea governorate, as its activities there are few and its presence is almost nil. It's said this is evidence that the SNC is essentially directed against a specific geography and that it is incapable of [including] larger political representation, or even larger southern representation. What do you say?
Al-Essi: The establishment of the STC was one of the main reasons behind the formation of the SNC, but it's not as you said: we are not only against the STC. After liberating southern governorates [from Houthi forces in 2015], we noticed that we have gone back to the totalitarian pattern which the Socialist Party had [adopted] to govern South Yemen and which former President Ali Abdullah Saleh solidified a part of under the pretense of controlling and maintaining unity. The STC only works with one party or one power and the rest do not have an opinion. The presence of political parties, the General People's Congress (GPC), Islah, the Nasserists and all other parties in southern governorates appeared timid and invisible, and they cannot organize any activity, like it's some sort of surrender to the STC.
We are from among the southerners, we call ourselves the unionists, and we stand with greater Yemen. Hence, we took an initiative in this regard based on our influence and presence in the southern arena – though at the beginning they used to tell me I wasn't a southerner – to agree with 13 political parties, including the GPC, Islah, the Baath, the Nasserists – the Nasserist organization eventually withdrew though – Al-Nahda party and components from the Southern Hirak and the Hadramawt Inclusive Conference – and these are the majority of southern components – to be a strong bloc that confronts the STC or those seeking the separation of south Yemen in general. The bloc was formed, and we were going to organize an event to declare establishing it in Egypt's capital, Cairo.
SC: Why wasn't it organized in Cairo? Do you think Egyptian authorities refused to let you hold the ceremony at the UAE's behest?
Al-Essi: The Egyptian authorities gave us all the permits and approvals but our loved ones, the Emiratis, eventually intervened and thwarted the ceremony. The Egyptians then suspended the permits, citing the Egyptian ministry of foreign affairs, even though they had already given us approval.
So we announced the SNC from Aden. It was the first political event to be officially held in the city that wasn't affiliated with the STC. A large crowd attended. Declaring the formation of the SNC from Aden, and not anywhere else, was proof of our strength, although some of our close allies stood against us.
We were going to hold ceremonies and events in other governorates, as the SNC has a branch in Al-Dhalea and three members of the SNC's supreme council actually hail from the governorate. The SNC is not regionalist but it's with Yemeni unity, specifically the unity of southern governorates. However, the battles that erupted in mid-August 2019 (between forces loyal to the government and UAE-backed STC forces and which ended with the latter's control over the city of Aden and a number of southern governorates) resulted in many difficulties that obstructed our activity in Aden. We were ready in Lahij governorate but we were advised by you know who (i.e. the Saudis) to stop. The special messages to Shabwa, Abyan and Hadramawt governorates were delivered (i.e. the SNC organized public events in all three governorates). In Al-Mahra governorate, there was escalation of revolutionary violence against the kingdom, so the SNC's command there told us that any event we want to organize is allowed but it would be viewed as against the Coalition and particularly against Saudi Arabia, and they advised not to incite the enmity of the Saudis; hence, we halted organizing any event.
---
The Impracticalities of the Riyadh Agreement
SC: What do you think of the Riyadh Agreement?
Al-Essi: It's a good and excellent agreement, but its items and how it was dealt with are as you know…
SC: How?
Al-Essi: Impractical, all about appeasement.
SC: And the new cabinet that was formed under the Riyadh Agreement? What do you think of it?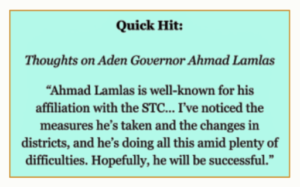 Al-Essi: The cabinet has been formed, but the Riyadh Agreement does not meet the aspirations in general and it was not implemented. Only what's in the STC's interest was implemented. As for the national interest or the legitimate government's interest, only a little has been implemented.
SC: What if we assume that they assign new governors in Shabwa, Hadramawt and the rest of the south's governorates (as per the Riyadh agreement)?
Al-Essi: The basis of the Agreement was not implemented. The first point stipulated the return of the Presidential Protection Brigades to their positions in the city of Aden and implementing the security and military aspects [of the deal], but this hasn't been implemented yet. The only thing implemented was forming a cabinet while the rest of the aspects haven't been implemented, although the Riyadh Agreement undermined 'the Legitimacy'.
---
Businesses in Northern Yemen 'Suspended' as Houthis Corralled the Fuel Trade
SC: Allow me to diverge a bit from the Riyadh Agreement. Let's assume that we wake up tomorrow to witness Yemen divided into two Yemens, what would this mean for your business?
Al-Essi: My business? If I am to think about my business, I'd work with the Houthi movement, the STC and the legitimate government. The picture is clear. All merchants work in all three areas, the merchants in the north and in the south work in all areas. I am the only one who took a clear stance toward the Houthis. All my capital and economic capabilities in the city of Hudaydah and the capital Sana'a (both are under the Houthis' control) are taken. Business is important, but the situation we've reached with the Houthis was impossible.
SC: But according to my information, your business is on, and even the oil that funds the Houthis goes through you.
Al-Essi: No, dear, I challenge anyone to prove this. I haven't had any commercial activity in Houthi-controlled governorates since the first day of Decisive Storm Operation [in March 2015]. My business has been suspended as the Houthis seized some property like houses and land in Sana'a, and a hospital, and closed the headquarters of my companies and factories and Al-Shifa medical college in the city of Hudaydah.
SC: This means that you do not have any current investments in Houthi-controlled areas?
Al-Essi: What I have now is my charitable work, and the payments made to employees who have been home since 2015 and up until today.
SC: How do the Houthis get their fuel supplies, then?
Al-Essi: Through the port in the city of Hudaydah, through the merchants they created. At the beginning, Tawfiq Abdelraheem helped them but they imprisoned him because they believed he opposed them, and currently, their merchants provide the fuel.
Before the war erupted, only myself and Tawfiq Abdelraheem worked in the oil sector. Currently, however, everyone is engaged in business in sectors that are not their specialty, like [Ahmed] Al-Muqbali (the largest fuel importer to Hudayah), for example, worked in the field of automotive spare parts but then shifted to oil trade.
SC: And all this happens with the knowledge of the government and the Coalition and goes through the procedures to attain licenses?
Al-Essi: Yes, hence violating the measures they have imposed.
SC: Who imposed them?
Al-Essi: The Coalition and the United Nations. In the beginning, oil supplies to the Houthis were only permitted via the government-controlled governorates, like Aden, but in the end they could not control this because the prime minister used to issue exceptional directives every year under which oil ships were allowed in.
Then they reached the agreement to implement the system of the economic committee which stipulated paying taxes and customs to the Central Bank in Aden, but they later agreed to pay them to the Central Bank in Hudaydah.
The goods that are brought in through the United Nations Verification and Inspection Mechanism, on condition that they do not come from Iran, are sold to the Houthis as well as in government-controlled areas on condition that taxes and customs are paid to an account in the Central Bank in Hudaydah. This account covers the salaries of some government employees and the rest of the salaries are paid by the Yemeni government. The government did in fact pay the salaries of employees at the ministries of education, health, etc. The sum of the money in the account at the Central Bank [in Hudaydah] reached around 38 billion Yemeni rials. The Houthis, however, violated the procedures that allowed them to bring in fuel so the Coalition prevented any ship carrying oil from entering the port of Hudaydah (leading to the June 2019 fuel crisis).
---
Prime Minister Maeen Abdelmalek is 'Accountable for Corruption'
SC: Prime Minister Maeen Abdelmalek says his battle with you is a battle against corruption.
Al-Essi: He must prove what he's saying. He is the PM, he says I am corrupt and everything is in my hands, the oil is in my hands. He must prove this. Our disagreement with Maeen is not because he is a prime minister or because he is delinquent but because he is a merchant; hence we hold him accountable for a part of this corruption.
SC: How?
Al-Essi: He is associated with trade groups, and he previously…[actually], I'll hold on to this piece of information for now.
SC: No, you can't. You can't give me half info and expect me to treat it seriously. Can you share more?
Al-Essi: He is officially associated with Al-Saghir Sons (a contracting company Maeen worked with in the past), Hayel Group (The Hayel Saeed Anam & Co) and Shehab (Shehab Trading & Investment Corporation), and he was engaged with them as a partner in an investment project in Ethiopia and other businesses and contracting projects. He is also associated with other large business groups. He facilitates their work and harnesses all the state support to help them. All these businesses pay their taxes to the Houthi movement, though they are given priority in terms of benefiting from the legitimate government's and the Coalition's capabilities.
You work with the Houthis, and I work with the Legitimacy. Your loyalty and revenues are for the Houthis while my loyalty and revenues are for the legitimate government. With Maeen, issues are facilitated for you and you are granted wider jurisdictions.
SC: Hayel, do you mean The Hayel Saeed Anam & Co?
Al-Essi: I am not talking about a specific group but about Maeen Abdelmalek and his policies. Hayel Saeed, Fahem (Haidar Fahem, a top importer of wheat), Thabet (Thabet Group) as well as other merchants have benefitted from these policies. The problem isn't in the merchant but in the official who is also a merchant.
---
Patron to President Hadi, Keeping the Economy Well Oiled
SC: You speak about Maeen as if he is a dubious figure, but don't you think that you have some sort of conflict of interest? What I mean here, is Ahmad al-Essi a sheikh, an oil merchant, the deputy director of the president's office, an athlete (Al-Essi is president of the Yemeni Football Association) or the leader of a political party?
Al-Essi: This runs in our system. Businessmen are not prohibited from engaging in politics. Politics was imposed on us – we did not shift from being politicians to becoming businessmen; it's actually vice versa. This is due to exceptional circumstances. The politicians we relied on were losers. After we left Hudaydah due to battles [in 2015] and reached Aden, there weren't any politicians or officials there. Are they agents? Are they weak? Have they escaped? I didn't know at the time.
The national cause demanded that we engage in politics. We do not perform official work and we do not set recommendations or issue directions at the presidential office.
SC: But you have an official position.
Al-Essi: An honorary one. I don't issue directions or make decisions. We helped the government at the beginning when it arrived in Aden. We cooperated with it and prepared everything, and they owe us money to this day.
SC: Do you mean the one billion [Yemeni rials] that you saved the president with when he arrived in Aden?
Al-Essi: Do not worry about officials, their affairs are well-organized. We re-equipped state institutions, repaired what the war destroyed and helped supply the army with food and other logistical services. The government has not paid what it owes me to this day. Therefore, the last time we worked with it was in the end of 2016.
I did not benefit from the government, and I did not exploit my position or skills. They owe me to this day.
SC: How much does the Yemeni government owe you?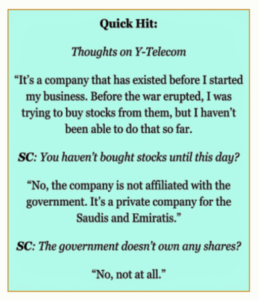 Al-Essi: The cost of food and so is around 500 million Saudi riyals (approximately US$133.3 million).
SC: These were salaries or just the cost of food? What were they exactly?
Al-Essi: Supplies to the army and the government, vehicles, repairs, camps, equipment and food. I performed the role of the National Economic Company.
SC: You basically performed the role of a governmental institution?
Al-Essi: At the beginning of the war, before the government appointed a director for the economic company to handle these matters. They haven't paid me anything since the beginning of 2017. As for electricity, well of course as you know, I transported oil and fuel between Yemeni governorates for more than 25 years. I transported Safer crude oil from Ras Isa to Aden's refineries and transported its derivatives from Aden's refineries to Hudaydah, Mokha, Mukalla and Socotra.
At the beginning of the 90s, foreign companies left and I took over. After the Houthis seized Sana'a and after Operation Decisive Storm was launched, I stopped these activities – or perhaps before that, I think.
Refineries stopped pumping oil derivatives to northern governorates, and the Houthis stopped pumping crude oil to Aden's refineries because the pipeline that supplies refineries in Ras Isa in Hudaydah is under their control. I kept 600,000 oil barrels until Aden was liberated, but my losses from keeping the oil in the Safer tanker in Ras Isa was US$1 million. The government owed me more than US$40 million during the war in Aden, and it hasn't paid.
SC: Why?
Al-Essi: Because they were working on repairing roads to allow the port of Aden to resume work and meet the fuel needs of northern governorates, after the Saudi-led Arab Coalition suspended imports via Hudaydah port, and in order to prevent food or oil derivatives shortages in the north. Facilitations to import fuel to northern governorates without paying taxes and customs were granted. This is in addition to facilitations by security apparatuses to keep roads toward northern governorates open. However, they disagreed with the Emiratis and none of this happened. What happened was liberalizing the oil derivatives.
Of course, our fuel imports' activities continued, then they announced tenders to import fuel to power plants. At the beginning several companies participated in importing fuel, but the government did not pay them and it did not even make commitments that it would pay. Meaning, the companies bought fuel and the government used to tell them we will pay later. Foreign companies did not deal with them because the country was in a state of war, and I was there so I began to import fuel.
The oil company was doing the work at the refineries to import fuel, and its bankruptcy was a result of not paying the fuel dues to generate electricity.
SC: But you even participate in formulating and designing tenders you also apply for?
Al-Essi: There are seven bodies that formulate the tenders: the oil company, Aden's refineries, the ministry of finance, the Central Organization for Control and Auditing and the energy ministry, (etc.) Seven bodies do so, I don't.
SC: It's frequently said that no one can participate in a tender or engage in equal competition when Aden's refineries are always loaded with Al-Essi's supplies, and even the refineries themselves cannot do that; hence even when documents and the paperwork appear legal, practices differ.
Al-Essi: No, there is no relation between what you are proposing. If, for example, there is a tender to buy 40,000 tons of diesel or 50,000 tons of mazout, the ship arrives and unloads in the reservoirs in Aden without any objections, and Aden's refineries pump them through the oil company.
As for electricity, no one can compete in this field as the power company is not paying money and it does not have money. It does not offer anything that would motivate you to work with it. It's really exhausting. However, since it's necessary to provide electricity, the government announces tenders even if it does not make payments.
Prime Minister Maeen Abdelmalek deceives people. Maeen's friends were brought by merchants affiliated with the Houthis – [Zaid] Al-Sharfi, Al-Sunidar [group] and Al-Muqbali – who used to work in Hudaydah.
No one in Aden wants to bring in diesel. Why? Because if they buy a certain amount to make some profit, half of this amount or a quarter or 20 percent will be used to generate electricity.
SC: What do you think of Saudi ambassador Mohammed al-Jaber and his role?
Al-Essi: Mohammed al-Jaber works for the interest of his country, and he has found obedient Yemeni employees. He believes he has been successful. The problem is not him; it's us, as Yemenis. Yemeni officials do not voice our desires and do not reflect our causes. Yemeni officials are serving their interests; they want to live, to receive a guaranteed salary, to keep their positions and to improve their relations with the Saudis, the Emiratis and even the Chinese. They do not want problems with anyone. They only want to please everyone.
SC: Let me ask something else: the presidential term of Abdo Rabbu Mansour Hadi entering its ninth year. It was supposed to be a two-year term only. Doesn't the formula you just used to describe Yemeni politicians apply to him too? As in he too protects his circle or his post, even if he's outside the country?
Al-Essi: What can he do? He does not enjoy the support of parties, there is no army that protects him and there is no economic power. He is in a difficult position, and there's no doubt that there is also dereliction on his side. In the end, he's in charge but he has his circumstances.
---
A Functional Animosity with the Emiratis
SC: Let me ask about Abu Dhabi. You are in a confrontation with the United Arab Emirates, or at least with its allies in Yemen and in Aden in particular, the STC and many forces in various areas. However, most of your money is in the UAE. How did you manage to combine all this?
Al-Essi: Are you hinting I work with the UAE?
SC: No, I am asking you how come your money in the UAE hasn't been harmed if you say you are enemies?
SC: The UAE harmed me, and it wanted to eliminate me.
SC: But your money is in Dubai, this is what matters.
Al-Essi: I do not have money in Dubai. I only buy from Dubai in the name of my company, not in my name. I don't go to the UAE, and if I did, I'd never be found again. My war with the UAE, the STC and the Houthis is no secret. Why do you doubt that?
SC: I do not doubt anything. I am asking you as a researcher. Explain this to me.
Al-Essi: Let me ask you, how do you see it?
SC: No, no. I am the one who is supposed to be asking questions here, and you have to answer me. Not the opposite.
Al-Essi: I'll explain. I have to buy fuel from the UAE because it's the best and the closest market and everything is available there. My office has been there since before the war erupted and before the UAE entered Yemen. The Emiratis have harassed our office and summoned its employees several times. However, our office has nothing to do with politics – the employees aren't even Yemenis. The Emiratis tried everything. but we were clear and transparent, and then they began to say I import oil from Iran.
SC: But this is often said – that most of your oil comes from Iran.
Al-Essi: Let them prove this.
SC: So what is the source of your oil?

Al-Essi: All of it is from the UAE, and that is why my office is still there.
SC: And its main source is the UAE?
Al-Essi: I buy from the UAE. I don't ask them where they bring it from. The UAE can investigate if there's something that raises suspicions that I deal with Iran, although it is closer to Iran and the Houthis than us. If the UAE has the chance to convict me for dealing with Iran or the Houthis, it will not hesitate, just like it's done with tens of Yemeni businessmen, including Al-Muqbali. The Emiratis raided their houses at night and detained them for more than a year and a half.
SC: They were oil traders accused of working with the Houthis?
Al-Essi: No, with Iran. Dealing with the Houthis is not prohibited.
SC: How?
Al-Essi: The Houthis secured oil supplies from the UAE through Bahraini, Iraqi, Iranian and Yemeni traders. Ten merchants are still detained in the UAE because they are accused of dealing with Iran. Two of them are Yemeni, [Sharif Ahmed] Ba'alawi and Al-Muqbali, and the rest are Iraqis and Bahrainis.
Their army (the Emiratis) that was in Aden, Mokha, Hadramawt and Socotra used to get its fuel supplies through me, they bought diesel fuel from me.
SC: They still do to this day?
Al-Essi: No, they no longer buy from me now.
SC: I heard that after the STC seized control of the city of Aden, the Emiratis had no way to access oil derivatives except through you.
Al-Essi: Yes, I told you, they want to kill me, yet they buy fuel from me. You're telling me the STC is in control, but the STC has nothing to do with this. They did not find anyone else except me to provide their needs. And at the same time, it's in my interest to open an office in Dubai. There is no problem with that.
Also, at the same time, I want them to show me evidence. All these accusations the UAE makes against me, well my office is there, why doesn't it take necessary measures? Why are the Emiratis dealing with me in Aden? We are transparent.
I make point-blank accusations of corruption against anyone. I am clear, and I confront them in all arenas and squares. Am I stronger than all of them? I steal and loot and confront everyone? What do you think? Weigh this properly. Maeen joined them. Does this mean I am stronger than all these powers? Why couldn't they prove any mistake I committed? 'I eat the earths and heavens', as you say about me at the Sana'a Center? Am I backed by foreign parties?
SC: I am asking you.
Al-Essi: I am directing this question to you.
SC: No, I am here to ask you questions, I don't have answers.
Al-Essi: They say I am corrupt and I am this and I am that. Let's assume it's true. Aden has been under the control of the STC for two years and I work there. Why haven't they arrested me and tried me at a court or even a militia tribunal?
I'd say the same about the UAE. My office is there in the UAE. The UAE had authority in Yemen and I was present in Aden and they wanted to assassinate me twice. They sent gunmen to assassinate me.
Why haven't they arrested me? Why haven't they done anything? The thing is all people think they (those in Aden) are liars and weak. If I am to think of my business interest, the Houthis will salute me and will deal with me, although they are our enemies. They do business like real men, better than the legitimacy and the Coalition. Do you know that when someone works with the Houthis, the latter keep their word and pay them? If you do not oppose the Houthis in politics, you live like a prince.
---
The UAE, the Houthis or Maeen – Who is the Enemy?
SC: I have a question. If I ask you to rank them, who are your enemies? The UAE, the Houthis, Maeen or the STC?
Al-Essi: Honestly, I do not think Maeen deserves to be described as an enemy but…
SC: The rest?
Al-Essi: The Emiratis insist on killing me.
SC: More dangerous than the Houthis?
Al-Essi: No, the Houthis are certainly more dangerous, but there's nothing personal toward me. The Houthis' problem is with the entire country, and I am part of the national component. The UAE is targeting me personally while the Houthis are in a defined position. We all acknowledge that the Houthis are an enemy who stole our property and prevented us from entering our country. There is no need to talk about this.
Regarding my relation with the UAE, the Houthis and Maeen Abdelmalek. When talking about the Houthis, I noted that they work for certain interests and business purposes. As for Maeen, he represents the government and he's not supposed to be handling matters by making accusations through media outlets.
Maeen sacked Interior Minister Ahmed al-Maysari and Transport Minister Saleh al-Jabwani. He passed whatever decisions he wanted. Is it difficult for him to prove my corruption? Why doesn't he prove it? My dispute with him is business-related, I view him as a competitor in business.
He supports business interests he is associated with and he ignores the general interest. He focuses on issues that are not important. Who is authorized to discuss the implementation of the Riyadh Agreement? Isn't it him? Has he spoken about the security and military aspects of the Riyadh Agreement? Has he tried to solve problems in Aden's port and airport? People and businessmen face so many difficulties in Aden's port, has he achieved security? He should go ahead and do so. What was his stance regarding the Central Bank issue? He prevented the issue from reaching the judiciary. The Central Organization for Control and Auditing exposed violations at Tadhamon Bank, which is affiliated with the Hayel Saeed Anam & Co, and at Al-Kuraimi Bank. Why haven't these cases been addressed? The Central Organization for Control and Auditing exposed them and raised the matter to the judiciary, but Maeen obstructed this. There's corruption when handling the Saudi deposit, and corruption activities such as looting people's land.
---
Who Should be the Next Yemeni President?
SC: One last question. Let's assume there is a transitional process after a year or something, god forbids, happens to Hadi. Who is your candidate for the presidency, and don't sell me the talk 'names are not important'. Tell me a name, who is your candidate for the presidency?
Al-Essi: Well, in that case, and if something happens to Hadi, I think I am the best among all those in the arena. Frankly, my proposed name is Ahmed al-Essi. I see myself as a combination of the authority of Abdullah bin Hussein al-Ahmar, Shaher Abdulhak and Ali Abdullah Saleh.
This the interview appeared in "Houthis at the Gates of Marib – The Yemen Review, January-February 2021″
---
The Sana'a Center for Strategic Studies is an independent think-tank that seeks to foster change through knowledge production with a focus on Yemen and the surrounding region. The Center's publications and programs, offered in both Arabic and English, cover diplomatic, political, social, economic and security-related developments, aiming to impact policy locally, regionally, and internationally.