A March wave of Houthi strikes on Saudi Arabian energy installations and retaliatory coalition airstrikes stopped, at least temporarily, with the April 1 announcement of the first nationwide truce of the war. The cease-fire took effect April 2, the start of the holy month of Ramadan, and was agreed to last two months, during which time military operations, including cross-border attacks, would halt and blockades on Hudaydah port and Sana'a airport would ease.
The truce followed a month of an intensified air war. Houthi authorities said their missile and drone strikes were aimed at ending the Saudi-led coalition blockade on Houthi-controlled northern Yemen – a set of trade and travel restrictions that prevent the Houthis from controlling access to northern sea and air ports – and in particular blaming the prohibition on ships from offloading fuel at Hudaydah port for an ongoing fuel crisis (see: 'Gasoline and Cooking Gas Prices Continue to Spike'). The text of the cease-fire specified that 18 fuel vessels would be given access during the truce period and two commercial flights a week would operate from Sana'a to Jordan and Egypt. The parties also agreed to discuss the opening of roads in Taiz and some other regions.
Southern governorates also experienced political violence throughout March, including abductions and assassinations by Islamic militants. Coalition airstrikes continued with their shift toward Hajjah in an effort to dislodge Houthi forces from the Saudi border.
Houthis Hit Saudi Arabian Energy Facilities
Houthi forces attempted to hit Aramco facilities in Riyadh, Abha and Jizan on March 11, which Saudi Arabia said caused a small fire at a refinery in Riyadh. On March 20, Saudi energy and desalination facilities were struck with missiles and drones, causing a temporary drop in output at a refinery but no casualties. Attacks targeted a petroleum products distribution terminal in the southern Jizan region, a natural gas plant and the Yasref refinery in the Red Sea port of Yanbu, as well as a water desalination plant in Al-Shaqeeq, a power station in Dhahran al-Janub and a gas facility in Khamis Mushait. Later on March 20, another Aramco distribution plant was attacked in Jeddah, leading to a fire in one of the tanks, according to the Saudi-led coalition. An Associated Press report suggested this was the same oil storage tank – at the North Jeddah Bulk Plant, near the city's international airport – that was hit in November 2020.
Houthi forces struck the same Aramco site again on March 25, the night before the Saudi Arabian Grand Prix in Jeddah, causing a fire in two storage tanks but no casualties. A Houthi military spokesman said the Ras Tanura and Rabigh refineries had also been targeted, and Saudi Arabia said a missile had caused a limited fire at an electricity distribution plant in Jizan. On March 26, the coalition announced it had hit targets in Sana'a and the west coast in response, including water-borne IED manufacturing facilities in Salif and Hudaydah ports and a weapons depot in Sana'a city. The UN said the airstrikes damaged its staff residential compound in Sana'a. US Secretary of State Antony Blinken issued a number of public statements condemning the March attacks on Saudi energy targets.

Ahead of the Ramadan truce, which followed weeks of international efforts, including by the US Special Envoy for Yemen Tim Lenderking and UN special envoy Hans Grundberg, each side offered up brief unilateral cease-fires. On March 20, the coalition paused its military actions for two days in what it said was an effort to encourage the Houthis to join Gulf Cooperation Council-led peace consultations in Saudi Arabia that began March 29 in Riyadh. But airstrikes resumed on Houthi positions in Marib, Al-Jawf and Sa'ada governorates as Houthi attacks continued along with the Houthis' refusal to attend the Riyadh talks. On March 26, the Houthis announced their own three-day suspension of air attacks on Saudi Arabia and ground operations in Marib, which they said could continue if airstrikes ended and the blockade – a reference to restrictions at Hudaydah port and the closure of Sana'a airport – was lifted.
On March 29, the coalition unilaterally announced a further cessation of operations, which appeared to be a precursor to the bilateral agreement Grundberg was finalizing. That announcement made no mention of the blockade – the issue over which previous cease-fire efforts have stalled. The Houthis have demanded the restrictions be lifted before agreeing to a cease-fire, while the coalition wants both implemented at the same time to prevent Sana'a from bringing in arms for a fresh offensive against Marib city and nearby oil fields. Houthi media said on April 4 that resumption of flights from Sana'a airport had been delayed due to the volume of people trying to reserve seats.
Media supporting each side reported cease-fire violations in its first days, indicating the risk of the truce breaking down. These included a Houthi attack on a government position in northern Marib on April 2, the movement of weaponry inside Marib and Hajjah on April 3 and violations in other governorates, as well as the seizure of an oil tanker by the coalition off the coast of Jizan.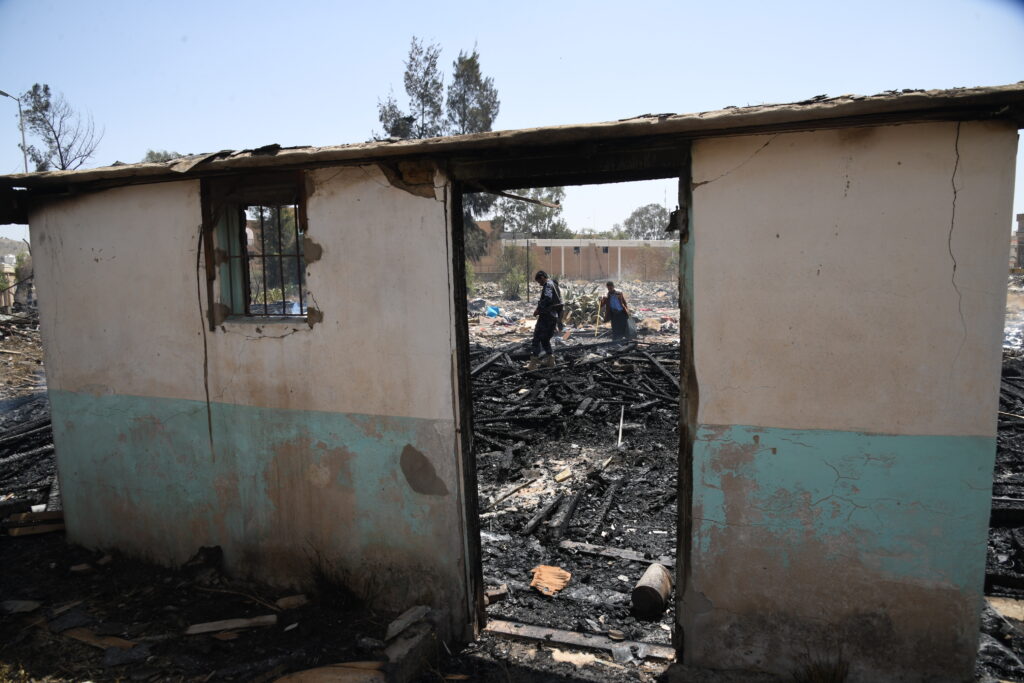 Coalition Airstrikes Focus on Hajjah
Fighting has slowed in Marib since the UAE-backed Giants Brigades pushed Houthi forces out of Shabwa governorate in January and the Houthis responded with drone and missile strikes on the UAE. In March, anti-Houthi forces continued fighting in a newly reactivated front near the Hajjah border town of Haradh, but their ground units, backed by coalition air strikes, were unable to make significant progress. A Houthi missile strike on a coalition military camp in the area reportedly killed nine Sudanese soldiers on March 2.
Coalition airstrikes appeared to dip during March. According to the Yemen Data Project, there were 401 individual air raids in January and 200 in February, the highest levels since 2018, but 178 in March. A March 24 report released by Save the Children said there have been at least 376 airstrikes against educational facilities across the country throughout the war, a third of which took place in Taiz governorate.
Interior Minister Cancels Restructure of STC Forces
On March 14, the internationally recognized government's interior minister Ibrahim Haidan overturned a decision by STC-affiliated authorities in Aden to restructure security forces outside the control of the ministry. In a memorandum to chief of police Mutahar al-Shuaibi and governor Ahmed Lamlas, Haidan canceled an order from Al-Shuaibi to merge patrol and road security forces with the STC-affiliated Emergency Forces and Security Support. Tension between the government and STC authorities in Aden is characteristic of the failed efforts to implement the security and military annexes of the 2019 Riyadh Agreement (see: Politics & Diplomacy).

Army Commander Killed by Car Bomb
Major General Thabet Jawas, commander of the Al-Anad axis and the 131st Infantry Brigade in Lahj governorate, was killed by a car bomb as his convoy traveled through Aden governorate's northern district of Dar Saad on March 23. His son Nabil, a nephew and at least one other person died in the explosion, which was reportedly carried out by a suicide bomber as the convoy returned to Lahj from a funeral in Aden's Al-Tuwahi district.
Jawas, from Radfan district in Lahj, previously participated in a number of campaigns against the Houthi movement during the Sa'ada Wars, including the first in 2004 during which the founder of the Houthi movement, Hussein al-Houthi, was killed. He survived a similar attack last year. A prominent Houthi figure celebrated his death in what some media interpreted to be an implicit claim of responsibility.
AQAP Attacks, Kidnappings Increase, IS-Yemen Pledges Loyalty to New Caliph
An uptick in Al-Qaeda in the Arabian Peninsula (AQAP) operations continued into March with an attempted assassination and the abductions of two humanitarians.
On March 15, three members of the STC-aligned Security Belt Forces were killed in an explosion targeting the convoy of the leader of the forces in Abyan, Brigadier General Abdullatif al-Sayed. Al-Sayed, who has been the target of numerous assassination attempts over the past decade, was wounded along with eight other Security Belt soldiers traveling in his convoy near the city of Jaar in Abyan's Khanfar district. The assassination attempt was later claimed by AQAP, which said it was carried out by two suicide bombers.
AQAP is also suspected of abducting two foreign employees of Medecins Sans Frontieres (Doctors Without Borders) from their car in eastern Hadramawt governorate on March 6 (see: Humanitarian and Human Rights, 'MSF Suspends Work in Marib After Abductions'). It was the third such incident in a month. AQAP militants kidnapped five UN employees in Abyan governorate on February 11; a March 9 report said AQAP was demanding a US$5 million ransom and mediation via an unspecified Gulf country. The group also kidnapped a British UN employee in Lahj governorate on February 23.
AQAP affiliate Ansar al-Sharia also threatened to execute local government officials in Hadramawt for alleged corruption, according to a report on March 9. A Norwegian national was arrested in Sana'a on March 7 on suspicion of belonging to AQAP. The group announced on March 17 the death of high-ranking commander Ammar al-Sanani in a US airstrike in Marib governorate.
After a long period of inactivity, the Islamic State's (IS) Yemen division published photos of fighters pledging allegiance to the Islamic State's new caliph on March 12, though it was not clear where the images were taken. IS branches have issued statements of support for Abu al-Hassan al-Hashemi al-Quraishi after he was appointed on March 10.
Other Military and Security Developments in Brief: