Gasoline and Cooking Gas Prices Continue to Spike
The fuel crises that erupted in both government- and Houthi-controlled areas in January continued throughout March. By mid-March, the authorities in Sana'a had increased the commercial price of gasoline by 43 percent to YR16,000 for a 20-liter tank, while the same quantity on the black market sold for YR26,000 (both priced in old rials, issued prior to 2017).
In areas under the nominal control of the internationally recognized government, the Yemen Petroleum Company's Aden branch raised the official price of gasoline 17 percent in March, from YR948 to YR1,110 per liter (YR22,200 for a 20-liter tank), while in Hadramawt, authorities raised gasoline prices almost 35 percent, from YR948 to YR1,278 per liter (YR25,560 for a 20-liter tank). These prices are in new rials, issued since 2017 by the government-controlled central bank in Aden (CBY-Aden). At the end of March, old rials were worth roughly twice the value of new rials, with US$1 buying YR609 of the former and YR1,232 of the latter (see, 'Slight Depreciation of Old Yemeni Rials in Houthi-Held Areas').
Houthi authorities continued to blame the fuel crisis on the Saudi-led coalition which, at the Yemeni government's behest, has blocked fuel tankers from offloading at the Houthi-held port of Hudaydah. However, overall fuel imports to Yemen have remained fairly stable over the past year, with decreased shipments into Hudaydah being made up with increased imports through the government-controlled ports of Aden and Mukalla and in-country supply chains adapting to truck fuel to Houthi-held northern areas. Pro-government media reports from March suggest that Houthi forces have continued holding up trucks at land crossings, creating an artificial fuel shortage in northern markets. Houthi authorities have claimed that the fuel shipments regularly contain substandard fuel and need to be held for testing, though the government denies this and the Houthis have provided no credible evidence to support this assertion.

The official price for a cylinder of cooking gas jumped twice in March in Houthi-held areas, rising from YR4,900 to YR5,900 at the beginning of the month, and then again to YR8,225 at month's end, amounting to a 68 percent cost increase. The availability of cooking gas at the official price was, however, limited. On the black market, where gas was more readily available, a cylinder was priced at YR20,000.
Houthi authorities blamed rising cooking gas prices on the increased cost of gas imports, with global natural gas prices having increased substantially since mid-December. The Houthi claims are dubious, however, given that prior to the ongoing conflict Yemen was a net exporter of natural gas, and throughout the war the government-run SAFER gas facility in Marib has continued to service most of Yemen's cooking gas needs, insulating domestic prices from fluctuations in global markets. The internationally recognized government refuted the Houthi claims, stating that gas from Marib was sold wholesale to the de facto authorities in Sana'a for YR1,750 (priced in old rials).
Slight Depreciation of Old Yemeni Rials in Houthi-Held Areas
In areas under Houthi control, old Yemeni rial banknotes slipped roughly 1.5 percent in value in March, trading as low as YR609 per US$1 near month's end.
In government-controlled areas, new Yemeni rial bills (issued by the CBY-Aden since 2017) began March trading at YR1,235 per US$1; they dipped in value by roughly 5 percent mid-month, but subsequently recovered to end the month trading at YR1,232.

Inflation Jumps, Spurred by Local Fuel Crisis and Global Food Prices
The recent surge in the global prices of food and fuel, accompanied by the local fuel crisis, has put upward pressure on the cost of most goods and services in Yemen. Fares for public buses in Houthi-held cities doubled in March, while private providers of electricity and water in Sana'a have increased their prices by 55 percent and 40 percent, respectively, since the start of the year. By the end of March, basic food staples also saw price hikes, particularly wheat flour, which had risen by 45 percent in Sana'a, 33 percent in Aden and 29 percent in Hadramawt. The cost of a minimum food basket (MFB) rose across the country: in Houthi-controlled areas, an MFB is now 33 percent more expensive; in Aden and Hadramawt, the cost increased 27 percent and 24 percent, respectively.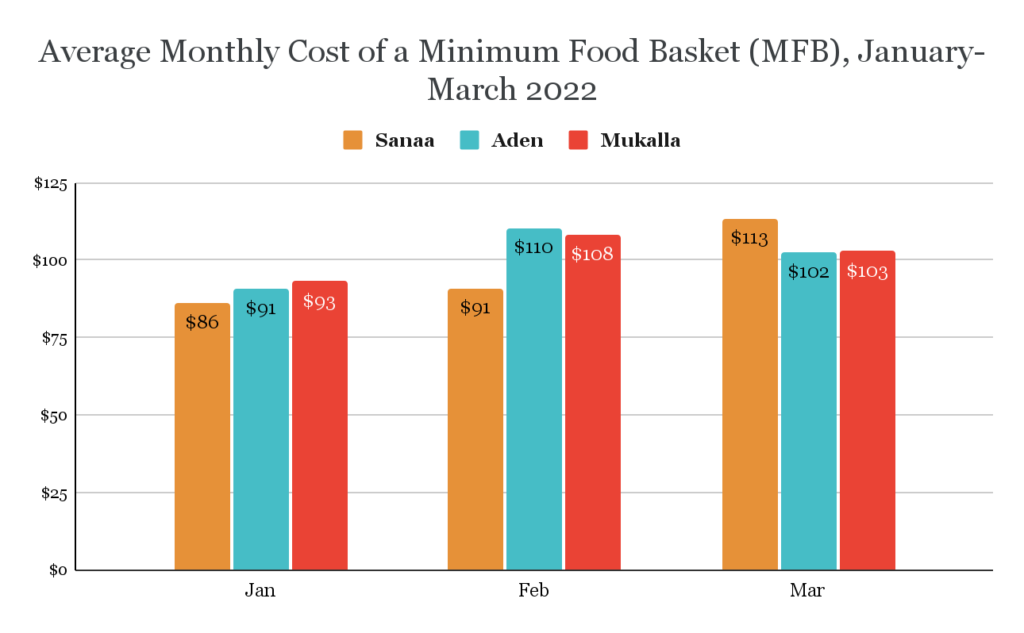 Other Economic Developments in Brief:
"Hadramawt … The Yemeni Petroleum Company approves new gasoline prices … the new prices [AR]," Yemen Days, March 16, 2022, https://yemendays.com/posts/6044
"The oil company announces a new price for fuel from today [AR]," Al-Arabi News, March 16, 2022, https://al-arabinews.com/news3999.html
"Find out the average prices of basic foodstuffs in Aden, Hadramawt and Sana'a for March [AR]," Al-Wattan, March 4, 2022, https://www.alwattan.net/news/185790