Overview
Houthi drone and missile strikes on government-controlled oil ports in mid-October marked the first significant post-truce military escalation, although neither the government nor the Houthis immediately launched major ground offensives. Fighting along frontlines nationwide after the truce ended October 2 occurred in southwestern Yemen, in Taiz, Lahj and Hudaydah governorates. In their troop movements and fortification of positions, both sides appeared to be preparing for the ground war to intensify. Saudi Arabia and the UAE, meanwhile, sent more weapons to their respective clients.
No casualties or damage were reported from the October 18-21 Houthi strikes on the Nushayma oil terminal and Al-Dabba port, but the prospect of further attacks in and outside Yemen paralyzed oil exports for more than three weeks, threatening government finances (see, The Economy & Finance, 'Houthis' Oil Port Attacks Threaten Government Finances'). The presidential palace in Aden is considered vulnerable to attack, even though the PLC remains largely absent; the UAE set up a radar system to detect drones around the palace complex before removing it a week later due to Saudi objections. Beyond Saudi energy and infrastructure, there are concerns among the coalition leadership about ensuring the smooth execution of the 2022 FIFA World Cup, taking place in Qatar in November and December and bringing global attention to the Gulf region.
In southern Yemen, counterterrorism operations against Al-Qaeda in the Arabian Peninsula (AQAP) continued throughout October in Abyan governorate, prompting IED attacks on STC forces in Shabwa that purportedly were carried out by AQAP militants chased out of Abyan. Further counterterrorism operations in Shabwa appeared imminent as part of the STC-led effort to root out AQAP militants.
Houthis Attack Oil Ports
After weeks of Houthi warnings against exporting oil from Yemen, the Houthis launched drone attacks October 18 and 19 on the Nushayma oil terminal at the port of Rudum, where the Tanzanian-flagged oil tanker Hana was docked. On October 21, two Houthi drones crashed into the Al-Dabba oil port in Shihr district as a Greek tanker was preparing to load a shipment of crude oil. While the government reported no injuries or damage, the tanker departed before taking on its intended cargo of 2 million barrels of oil. On October 25, local authorities closed the port of Mukalla after detecting Houthi drones. The port reopened days later for non-oil commercial activities. On October 26, Shabwa Defense forces shot down a Houthi drone near Ataq airport, which is known to host UAE and coalition forces. The Houthi attacks on the Nushayma and Al-Dabba oil terminals apparently aimed to pressure the government as UN mediation continues (see. Politics and Diplomacy, 'Houthi Strikes Prompt Government Terrorism Designation, UN Condemnation').

Lahj
Clashes between STC-aligned and Houthi forces in Lahj intensified in October, with Houthi forces reportedly making some advances. Fighting was concentrated in the Al-Hadd Yafa area in the governorate's far northeast and in Musaymir and Qubaytah districts along the border with Taiz governorate. Frequent clashes and artillery shelling resulting in several deaths were reported throughout the month, with senior military commanders of the Yafa Military Axis meeting October 22 in response to the intensified fighting. On October 30, Houthi forces launched a large-scale attack in northeastern Lahj, seizing positions from forces of the STC-affiliated 10th Saiqa Brigade stationed in the Habeel Hanash area of Al-Musaymir district.
On October 20, clashes between Security Belt forces and armed tribesmen affiliated with Sheikh Essam Hazaa erupted in the Ras al-Ara area of southern Lahj. Recent disputes between the two parties centered on the construction of a port in the area near the Bab al-Mandab strait financed by Hazaa, who has been accused by the STC of receiving Islah support for the project.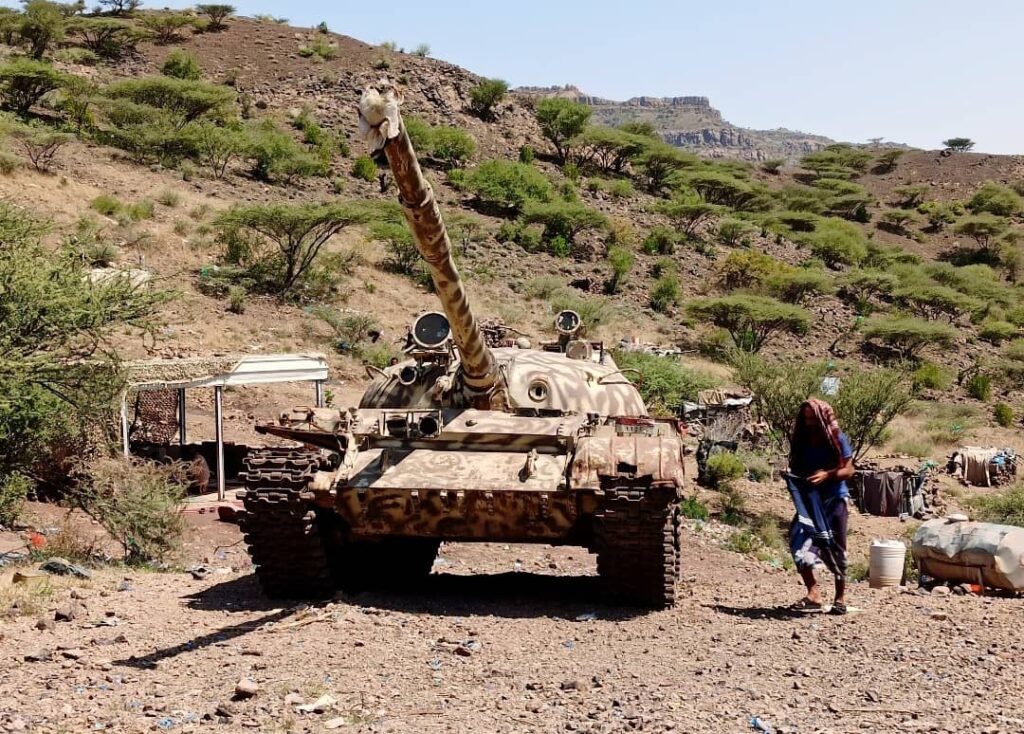 Taiz
Mirroring increased fighting between Houthi and STC forces in neighboring Lahj, Taiz governorate saw an uptick in clashes between pro-government and Houthi forces following the expiration of the truce. In the Sabir al-Mawadin area to the east of Taiz city, the first clashes between Houthi and pro-government forces since April erupted on October 7. Fighting also occurred around various parts of Taiz city, in Maqbanah district near the Taiz-Hudaydah border, and in Jabal Habashi to the west.
Security incidents and criminal activity in Taiz city included armed clashes that broke out October 23 in the city's northeastern Al-Rawda neighborhood. There, security forces tried to arrest Ghazwan al-Mekhlafi, the nephew of the commander of the 22nd Mechanized Brigade and the leader of an armed group known for looting, seizing land, and extorting merchants. The attempted arrest followed a series of killings and other crimes in Taiz city since 2018, allegedly committed by Mekhlafi's followers. One soldier was killed and three civilians were wounded in the clashes. The following day, security forces sent reinforcements and stormed Al-Rawda neighborhood, killing Ghazwan's brother, Suhaib al-Mekhlafi, who also led an armed group and was accused of a number of killings. Despite the Taiz Police Director saying he would pursue Ghazwan and other fugitives, the operation was suspended due to pressure from senior military officers, local authority leaders and prominent sheikhs in the governorate. Ghazwan appeared in a video circulated on social media pledging to rally the support of his tribe to avenge the killing of his brother.
Taiz city also witnessed multiple IED attacks during the course of the month. On October 6, an IED detonated in a jeep belonging to tribal sheikh Munther Abdullah Ghanem al-Najashi, minutes after he parked the car and entered a restaurant. On October 19, an IED detonated near a military vehicle parked in front of a restaurant in Al-Quba neighborhood, in the center of Taiz city, killing two civilians and seriously injuring three others. Taiz city authorities announced on October 23 that they had captured a Houthi-affiliated cell responsible for the Al-Quba explosion and other IED attacks in the city. An increase in the use of IEDs in the governorate began in September 2022, with the targeting of a passenger bus near Al-Turbah city in southern Taiz.
Hudaydah
Persistent clashes between Houthi and Saudi-led coalition forces in Hudaydah were reported in October, with signs of increased Houthi activity. The clashes, which included frequent Houthi drone strikes on Joint Forces positions, mostly took place in the Hays, Jabal Ras, and Jarahi districts in the southeast portion of the governorate near the Taiz border. On October 22, Houthi forces were seen clearing landmines in the fortified Al-Ghuwaireq area of southwestern Al-Tuhaytah, which residents were ordered to evacuate in early March. The demining efforts coincide with Houthi reinforcement of the nearby coastal area of Al-Hayma, where Joint Forces were also seen constructing and extending fortifications earlier in the month. The developments suggest that Houthi forces may be preparing to advance southward.


Marib
Houthi attacks on government forces in Marib governorate were reported throughout October, with most fighting concentrated to the south of Marib city in the Balaq Mountain range, Marib al-Wadi district, and Harib district. On October 19, Houthi forces undertook military preparations in the Al-Aayref area west of Marib city, apparently in preparation for an operation against pro-government forces. Other Houthi reinforcements were reported in the Jidaan tribal area to the northwest of Marib city and Al-Jubah district to the south of Marib city. Later in the month, Houthi Defense Minister Mohammed Nasir al-Atifi toured the frontlines near Marib. The visit gave the impression that Sana'a was preparing for a possible return to hostilities in the governorate.
Al-Bayda
In October, fighting in Houthi-controlled Al-Bayda took place on multiple fronts, mostly along the governorate's borders. In the northeast, Houthi forces sent reinforcements to Aqbat Al-Qanath'a in Namaan district, bordering Shabwa governorate's Bayhan district early in the month, with clashes breaking out between Houthi and Shabwa Defense forces on October 13. In neighboring Natea district, a tribal mediation committee brokered a deal between Houthi and Giants Brigades forces to open the Aqbat Maleh road linking Natea with Bayhan district one day each week, after fighting between the two sides had kept it closed for a month. In the southwest, intermittent fighting between Houthi and STC forces in Lahj was reported along the Lahj–Al-Bayda border. On October 18, Giants Brigades forces along the Yafa front in northeast Lahj governorate fired a missile at Houthi forces in Al-Bayda's Al-Zahir district, reportedly killing a Houthi field commander. In the south, intermittent fighting was reported on the Aqbat Thara front along the border between Al-Bayda's southern Mukayras district and Abyan's Lawdar district.
Al-Dhalea
Although no major advances were reported, frequent fighting took place in Al-Dhalea governorate between Houthi forces on one side and pro-government and Southern Resistance forces on the other. Most clashes were reported along the Batar Hajar, Bab Ghalq, and Fakher fronts in the northwest. In contrast to other fronts, where the anti-Houthi coalition forces have maintained a more defensive posture, Al-Dhalea witnessed attacks by Southern Resistance forces against Houthi positions.
Abyan
On October 8, STC-aligned and local security forces deployed throughout the southern and eastern regions of Al-Mahfad district in northeastern Abyan governorate, setting up checkpoints along the main road. AQAP militants were suspected in multiple IED attacks during the operation, including an October 9 roadside bomb in Wadi Omayran that killed four men of the Security Belt forces. On October 10, Mukhtar al-Nubi, commander of the STC's Abyan Military Axis, said most of Abyan's northeastern Al-Mahfad district had been secured. Still, security operations against suspected AQAP strongholds continued throughout the month, with a raid on a site in the Al-Sawad area reportedly killing two alleged members. Suspected AQAP attacks against STC-aligned forces also persisted: Two roadside bombings in Al-Mahfad killed three soldiers on October 14; and an IED attack on an STC-affiliated ambulance killed four on October 22.
Clashes between Houthi and anti-Houthi forces in Abyan along the mountainous Aqabat al-Tharah front appeared to result in no substantive territorial shifts. Houthi forces on Aqabat al-Tharah, along the border with Al-Bayda governorate's Mukayras district, overlook pro-government and Southern Resistance forces in Abyan governorate's Lawdar district. Despite multiple Houthi attacks, anti-Houthi forces claimed to have prevented any major advances. Throughout the month of October, residents in Abyan's northern districts of Lawdar, Mudiya, and Al-Mahfad districts reported seeing what appeared to be the same drone, believed to belong either to US forces tracking Al-Qaeda elements or the Houthis. The area has seen US drone strikes targeting Al-Qaeda in the past.
Shabwa
Al-Qaeda elements fleeing the STC-led operation in Abyan reportedly entered the mountains of neighboring southern Shabwa. Several IED attacks on STC-aligned forces were reported throughout the month in Shabwa, including multiple explosions in the southeastern Al-Saeed district, where Giants Brigades and Shabwa Defense forces targeted Al-Qaeda members in September. The frequency of IED explosions in Shabwa has increased since August, when the Islah party was expelled from the governorate by the Giants Brigades and other UAE-backed forces. Local security sources accuse Al-Qaeda of engineering the attacks, while STC supporters blame the Islah-affiliated security leaders who were removed in August. The attacks may be part of a strategy to distract security forces and demonstrate that the Shabwa Defense forces and the Giants Brigades are unable to establish security and stability.
Governor Awadh bin al-Wazir al-Awlaki appointed his son, Ahmed Awadh al-Wazir al-Awlaki, as commander of the 1st Brigade of the Shabwah Defense forces on October 26. Soon after, on October 29, local military and media sources said that coalition forces had agreed to a proposal presented by Governor Al-Awlaki and the head of the STC's executive body in Shabwa, Ali Ahmed al-Gabwani, to absorb 700 Shabwani Elite soldiers into the Shabwa Defense forces. Remaining members of the disbanded Shabwa Elite forces would be absorbed at a later date.
Although less substantial than fighting elsewhere, clashes between UAE-backed and Houthi forces were reported in northwest Shabwa's Bayhan district along the border with Houthi-controlled Al-Bayda governorate. On October 13, Houthi forces used heavy weapons in an attempt to penetrate the Aqbat al-Qantha front, where the 3rd and 6th Brigades of the Shabwa Defense forces were stationed. Although there were no casualties or advances by either side, sources from the 6th Brigade said that Houthi forces had recently reinforced their positions on the front, which due the presence of a strategic road was a major center of fighting during the Houthi offensive in Marib in late 2021 and early 2022.